Starting assumptions: the 3 stages of the hair growth cycle
Along its life cycle, the hair follows three consecutive phases.
– The growth phase, the anagen phase, along which the hair is tied to its root.
– The resting phase, the catagen phase, along which the hair stops growing and the root will "rest". The hair slowly gets away from its root.
– The loss phase, the telogen phase, along which the hair completely gets away from its root and falls out. The root will then start a new cycle and be in an anagen phase again.
The 3 stages of the hair growth cycle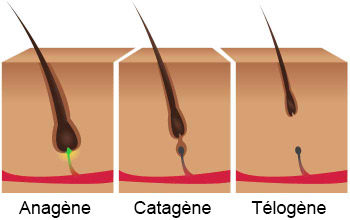 Anagen  Catagen Telogen
Each hair will have their own life cycle and therefore will be at varying steps of their cycle.
The laser treatment enables destroying hair when they are in the anagen phase.
Indeed, during this first stage, all the energy coming from the laser shot is captured by the hair and transmitted to the root which is then destroyed. However, in the catagenic phase, there is a loss of energy between the hair and the root, the latter is hence damaged, and will give thinner hair at a less often rhythm. Yet, they won't be destroyed. Finally, in the telegene phase, the hair that receives the energy is destroyed during the session but no laser energy is transmitted to the hair's root as there is no more contact between the two.
(Description of the Alexandrite laser principle).
Therefore, there is only part of the hair that is destroyed along each session (which is the equivalent to 15%). The session hence should be repeated.
The treatment lasts for 6 to 8 sessions on average, depending on the zones and besides the hormone-dependent zones for which the treatment is takes longer.
The time interval between two sessions should be 6 to 8 weeks.
How does a session takes place?
On the zone about to receive the laser treatment, the hair should be cropped (the zone can be shaved or a depilatory cream can be used), in order to avoid any energy loss along the hair.
During the session, eyes are protected with suitable protective eyewear or tailored opaque shells for a face's treatment.
Following the session:
A hydrating cream should be applied straight after the treatment. The skin should not, in any case have sun exposure 15 days after the treatment session. Indeed, there is a risk that brown spots will appear on the treated zone.
Today's technology enables treating white/pale skins (with the Alexandrite laser) and darker skins (with the ND-Yag laser).